LED Motion Sensor Wall Outlet Light
The ultimate night light鈥擴se LED night light sockets to protect the earth and wallet. The cost of powering this convenient lamp is less than $0.10 per year and can last for up to 25 years.
Quick and easy installation-with the help of a screwdriver, you can install our LED exit light in just 1 minute and use it without any cables or batteries.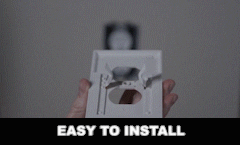 Clean and practical design-driven by the wall-mounted power socket itself, the LED wall panel perfectly fits the wall, making your house look neat and tidy. The LED light is triggered by a light sensor, which is ideal for illuminating any child's room, long corridor, staircase, or bathroom to guide you at night.
Safety for children and pets鈥攐ur wall-mounted night lights will not overheat as many other standard night lights. If you have children or pets in your home, unopened glass bulbs can break or crack, making them super safe.