Ionic Filtration Shower Head
Your bathroom needs such a shower! The shower can be relaxing and at the same time refreshing. The ion activated shower head allows you to relax and massage in the shower. The shower head provides 200% pressure and 30% water saving technology. The use of anion filtration technology can effectively filter water impurities.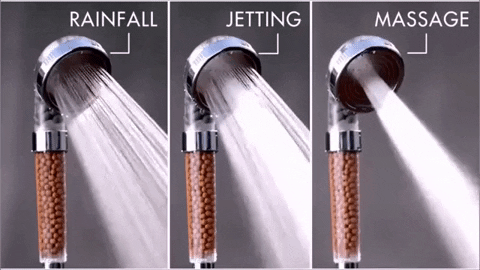 feature:
The built-in energy ball can convert the PH value of water to alkaline, which is beneficial to human health
The spa experience of ceramic particles promotes metabolism and reduces fatigue
Anion filtration, filtering impurities
Remove chlorine, heavy metals and bacteria in water
Easy to install, suitable for the most standard hose
Enjoy the luxurious spa experience in 3 modes. Adjustable water can be transferred at will, rainfall, spray, and massage, allowing you to enjoy the SPA shower experience in the bathroom, effectively eliminating fatigue. Its laser drilling technology helps to save 35% water and increase pressure by 200%.

This shower head uses the latest advanced technology to instantly purify and filter bacteria and odors in the water bath, which is beneficial to your health
The shower head is made of high-quality and lightweight ABS body, polished chrome, beautiful glossy surface, will not rust even after long-term use. This can perfectly fit any bathroom. The structure is sturdy and no leakage.
feature:
Reduce water costs (20-40%!)
Soft water, pressurized design
Easy to disassemble and clean
Strengthen water
Antibacterial, water saving
specification:
Material: ABS
Finish: Chrome
Filling: energy ball, negative ion technology, infrared mineral ball
Color: transparent purple
Size: 220*80*80mm