Fish Scaler Skin Remover
High quality with fish scale cover.
It also comes with a knife.
Fish climbers can stop fish scales and prevent chaos.
Safe and effective tool.
Portable and easy to use.
Modern kitchen tools.
Easy to clean.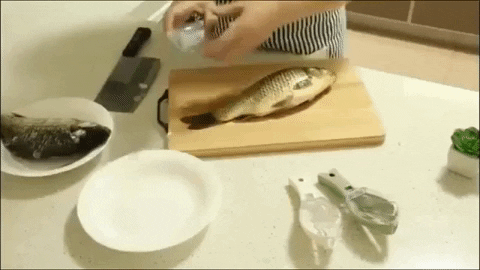 Why should I buy this?
The fish-shaped design and cute appearance bring a lot of fun to family life.
With the cover plate design, when the fish scale is scraped off, the fish scale will not fly, and the operation is convenient.
The bottom is lifted and the scales are easily scraped off.
It is easy to clean, clean and hygienic. There are hanging holes on the handle, which can be hung and placed neatly.
specification:
Material: PP
Size: 16 * 5.5 * 4.5cm / 6.3 * 2.17 * 1.77"
Weight: 61g
Packing: Kraft paper box