Fish Scaler Skin Remover
Fish Scaler Skin Remover

Our Fish Scale Remover easily cleans and brushes the scales away from your fresh fish. The Scale Remover even collects the scales so you won't have to clean up your kitchen after.
--
Enjoy your freshly caught fish without the worry of the hassle of removing the scales. You will need a tool called a fish scaler!
--
Is it tiring to clean . gut . and descale fish befor cooking? The fishing part is the most fun but cleaning the fish isn't fun at all. So why not make life easier by using the right tool? This Fish Scaler Skin Remover is the best tool to get the scaling job done right away!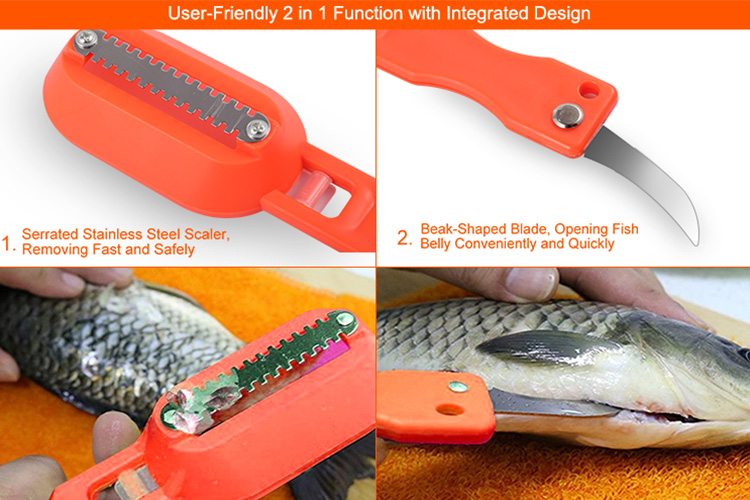 A Fish Scaler allows you to remove scales off a fish before you can cook it. The tool is designed to make scale removal quick and hassle-free. So . you never have to worry about spending time or elbow grease trying to remove the scales. With the right fish scaler in your toolkit . you'il soon be cleaning your catch for dinner like a pro!
FEATURE(S):
- COVER DESIGN : With a lid . when collecting the scales . the fish scaler stops the scales flying around and avoids messes.
-CONVENIENT : Indispensable handy tool for your housewives or professional chefs and restaurateurs. Let you easily remove scales quickly and safely without fuss unlike using a knife.
-EASY TO CLEAN :A quick rinse under running water cleans this Fish Scaler up. Cleaning this is less hassle . clean . and sanitary

Included:
1 x Fish Scaler Skin Remover
?